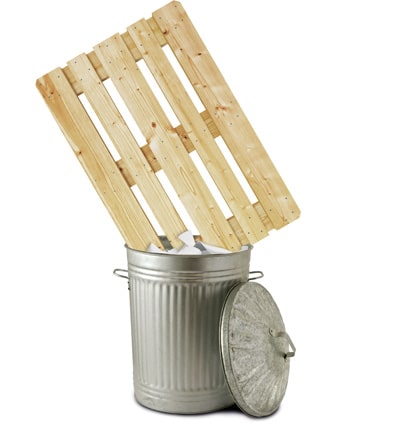 PGS REVERSE
Is a pallet
without a future
still a pallet?
PGS REVERSE: an antiwastage logistics concept. more than just pallets!
Because a pallet can make an average of 8 rotations, a single-use pallet is both a waste of natural resources and a loss of money for the company using it. Surprisingly, empty pallets do not travel well and, additionally, making empty runs back and forth between points of shipping and delivery are just as senseless for the environment.
Bolstered by the breadth and depth of its network, in France and Europe, PGS has developed a fully responsible and cost-effective logistics system: virtual pallet transfer. It is based on pallet collection, refurbishing, stocking, followed by its reuse in the right place at the right time in your logistics chain, and all from the closest PGS facility.
One concept providing three types of services to cover all industrial needs
• ECO PGS/Availability of green pallets
A service for businesses making deliveries to primarily non-food retail outlets
• PGS RLS/The European pallet account
Relocation of your EPAL/EUR Düsseldorfer pallets throughout Europe
• REVERSE +/delegated management of your entire logistics park
The principles of relocation applied to your entire chain of logistics
A concept at the heart of the PGS group's circular economy strategy
Planted, manufactured, collected, stocked, relocated, repaired, and then ultimately recycled, our pallets have more than one life.
With its focus on logistics services, PGS REVERSE is an integral part of the PGS Group and fully adheres to a responsible citizen and eco-friendly strategy that has driven the group since its beginnings.
The PGS group performs all the operations that contribute to pallet production and life: forestry, the wood industry, and recycling operations. A development strategy that allows us to assume our responsibilities at every stage and to practice our values day-to-day.
For more about the group: www.pgsgroup.com